Monday, 10 April 2017 - Reviewed by Martin Hudecek
5 - The Door
(Written by David Benioff and D.B. Weiss)

6 - Blood of My Blood
(Written by Bryan Cogman)
---
STARRING: Peter Dinklage, Nikolaj Coster-Waldau, Lena Headey, Emilia Clarke, Kit Harington, Liam Cunningham, Natalie Dormer,
Carice Van Houten, Alfie Allen, Sophie Turner, Maisie Williams, Isaac Hempstead-Wright, Aidan Gillen, Diana Rigg, Joseph Mawle, John Bradley, Dean-Charles Chapman, Hannah Murray,
Jacob Anderson, Daniel Portman, Michiel Huisman,
Nathalie Emmanuel, Gemma Whelan, Gwendoline Christie,
Kristofer Hivju, Conleth Hill + Iain Glen

WITH: Jonathan Pryce, David Bradley, Richard E. Grant,
Kristian Nairn, Vladimir Furdik, James Faulkner, Essie Davis,
Ellie Kendrick, Tobias Menzies, Pilou Asbæk,
Michael Feast, Tom Wlaschiha, Roger Ashton-Griffiths,
Ian Gelder, Hannah Waddingham, + Faye Marsay.
AND: Samantha Spiro, Eugene Simon, Freddie Stroma,
Rebecca Benson, Tim Plester, Daniel Tuite, Ania Bukstein,
Sam Coleman, Kevin Eldon, Leigh Gill, Eline Powell,
Rob Callender, Ben Crompton, Gerald Lepkowski,
Wayne Foskett, Sebastian Croft, David Rintoul, + Kae Alexander

SPECIAL GUEST STAR: Max von Sydow
---
Directed By: Jack Bender

Showrunners + Producers: David Benioff + D.B. Weiss

Game of Thrones is now available on DVD, Blu Ray
and streaming services Worldwide
Myriad viewers are presented once again with the middle episodes of the part-fantasy/part 'War of the Roses' serial epic. This sixth run of adventures to feature some of the most iconic characters of recent times on television is mostly breaking new ground, although sometimes there is a return to the material George RR Martin so vividly produced. (And readers can certainly take their pick - there are paperbacks, hardbacks, eBooks, and even a fully illustrated edition of the very first volume).
---
The Kingsmoot was a riveting passage in the somewhat turtle-paced A Feast For Crows (that tome feeling at times flat, in that half the characters' were kept off-page until Book Five). This scene is played a little more 'bare bones' in the TV show, but still works in conveying suspense and plot progression. Having Theon bravely concede he is not a leader, due to both his mutilation and also his sister being constantly there for the Iron Islands, is one of the more poignant moments for this brilliantly-played character. Yet his 'rubber stamp' of Yara's stirring speech is quickly quashed by the self proclaimed murderer of King Balon.
Although their father was not a good man, or particularly accomplished, he still would have likely intended Yara to take his place. Instead Euron with his bluster, but also some credibility, is quick to seize upon the baser elements that form many of the Iron-born reavers' fundamental character traits.
The chase/christening scene is a dynamic form of direction from Jack Bender, and portrays the different factions that may play a notable role in the overall future of the kingdom. Stirring music from Ramin Djawadi is used throughout. Whilst it is heartening to see the Greyjoy siblings escape on the 'best ships', it is also ominous that their uncle is resolute in being able to eventually find and slay them.
*
Whilst Episode Three saw Sam's story arc tread water, there is now proper progress here. For some time it had been clear just how unpleasant was the highborn Randyll Tarly, and in particular how poorly he regarded his son. Regardless of the character only being depicted through spoken dialogue, viewers truly felt for Sam. Finally Randyll has an onscreen guise, (and the casting of James Faulkner is once again spot on). That his other son Dickon is relatively meek, and both his wife and daughter are so placid, takes away nothing from his grim gravitas. With Tywin now conclusively out of the show, it is good to have a reminder of how special Charles Dance's contributions were in days of yesteryear.
Sam is learned and intelligent, but under such a barrage of verbal abuse and contempt by his own father, he is powerless to prevent headstrong Gilly from revealing her true origins. The tension at the dinner table is as worrying a moment to long-term viewers as any 'blood and guts' swordplay. The key difference lies in the subtlety of spoken dialogue, as opposed to choreographed action. The stolen Heartsbane is a loss to Horn Hill, but a triumph for Sam. It shows how much he has grown as a (makeshift) warrior, and a dedicated partner and friend for those closest to him.
*
Jorah has been 'lost' in many respects, even before we first met him in Season One, due to the magnitude of his being a disgraced knight. He had however found a purpose in being so devoted to his Queen. Yet twice she banished him. This time he wishes to dismiss himself, and for the very last time, but instead is tasked with finding a cure for his greyscale infection. This is no mean task, but should he (somehow) succeed, then he is expected to return to Dany's side, upon her 'rightful' acquisition of the Iron Throne. Whether this will ever happen is a very open question, but the key to this scene having such resonance lies in the brilliant acting from Emilia Clarke and Iain Glen play their roles. It also is intriguing, in having Daario feel for Dany's clashing emotions, even if he still dislikes Jorah.
A terrific tracking shot of Dany's Khalasar following her, as Jorah prepares to leave, highlights just how slick a show Thrones is, and how worthy it has been of its various cinema 'upscalings' in recent times. In the concluding scene of Blood Of My Blood it becomes clear how devoted Dany is to her Dothraki identity (without of course ever relinquishing her Targaryen origins). Her proclamation that her warriors will cross the Sea - which is unprecedented for these barbarians - and overcome all enemies on the mainland, is a stirring moment.
Yet it remains to be seen if Tyrion's negotiations - in the absence of the established monarch - are going to pay off. There is not too much screen time for Dinklage's magnetic character, once again with this portion of episodes; with the latter seeing the grand-persuader/drunken-wit being kept wholly off-screen. As the 'Imp' is still under pressure to convince the people of Meereen that peace is secured, and that Dany was responsible, he resorts to hiring someone with the right look and way of speech.
Yet another Red Woman is unveiled before both Tyrion and Varys, who represent the absent Queen. Yet the 'Eunuch' transitions from being supremely certain that he can control this visitor, to looking both surprised and frightened. Despite being a complete stranger, she manages to forcefully narrate the dreadful events that saw him castrated, and how they are part of the Lord of Light's designs. Varys had always believed he was in charge of his upward ascent in status, but the Priestess affirms how both of them were brought to this time and place, through higher powers (and designs). Ania Bukstein does great work in her limited screen time as this religious figure, which is indicative of how effective many 'minor' roles are in this ensemble TV series. Varys is always a strong presence in the show, but some earlier Season Six episodes did verge a bit too much into broad comedy. Regardless, he continues to be played with just the right amount of understatement by Conleth Hill. The show also does fine work in establishing just how much Tyrion and Varys had their comfort zone back in King's Landing.
From hot dusty land, to wintry and forboding climes. The Door showcases a number of powerful demises, and the most moving of these applies to the gentle semi-giant that is Hodor. Whilst never the deepest character, he was kind and loyal, and Bran is almost ruthless in making a choice that results in Hodor's brutal and slow death. There also is a temporal-paradox 'echo' generated, which causes the previously articulate 'Wylis' to lose his established persona. Whilst Bran and Meera manage to make a frenzied escape, the show mainly conveys a deep impression of how time and causality may actually not always be linear. The flashbacks that have been such a strength of this latest season take on a new dimension, as the younger version of Hodor is forced to see his eventual death as Bran wargs through him.
The preceding scenes at the Weirwood, and the escape through the tunnel are again evidence of how strong the production values are for the show. Another of the Night's King's lieutenants/underlings is destroyed by dragonglass and the effect is riveting, but nonetheless there is a sense of tension and hopelessness, as the great Tree is no longer a haven. As the few remaining Children of the Forest are extinguished, The Door has already made the viewer feel conflicted about their fate. Many centuries ago, these supernatural beings created the White Walker race, as a defensive act against the men that invaded and threatened their territories. Foresight of the dangers to the wider world, and indeed their own race, had not factored into the Children's minds.
To see yet another direwolf perish is regrettable, and also somewhat needless as he does not manage to do much damage to more than a wight or two. But by this point in the show, it also is more than expected. Whilst in some respects a mere animal, 'Summer' will be missed, as again part of the Stark legacy is lost. Now only Ghost and Nymeria remain amongst the living of this striking family of animals.
There is some scope for hope, at least. Benjen Stark, who seemed to have been killed off long ago in the show's timeline, is back - albeit not fully alive. He had been saved by the Children at some earlier point in time. In a contrast to the creation of the Night King, his wound from a Walker was prevented from spreading, thanks to the application of dragonglass. The actor who originally played him is back as well, and this is welcome.
Whilst the resolution of Bran and Meera's run from certain death come across as yet another fortuitous escape in this show, it still works well enough. Plenty of fire, fury, and chaos is displayed in the woods/wilderness, and there is the extra edge of this following on from the bizarre back-and-forwards flashes of history that swirl around Bran's consciousness as he is pulled on a sled. The transition from one old man 'stuck in a tree' (played by the incomparable Max von Sydow) to a still not fully adult man is set to be one of the major factors in the closing stanzas of Game Of Thrones. Benjen clearly asserts how his nephew is crucial to standing up to the Night's King. But will his lack of being 'ready' be too great an obstacle?
*
In perhaps a welcome change up from intensity and sadness, the theatre scenes in Braavos involve a brilliantly twisted telling of some of the major events in Seasons One to Four. Another variation of Ned is witnessed on-stage, and the Northerner's most stupid characteristics are exaggerated, and made into his sole defining traits. This is painful for Arya to watch, but even worse is the way that the infamous beheading is rendered for entertaining the crowd; complete with an unconvincing am-dram fake head rolling onto the stage – and the crowd's mirth at this reminds the refugee noble woman of just how tarnished the Starks' reputation is amongst most of the populace.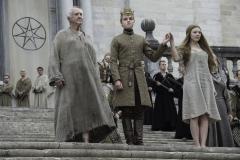 The performances of most of the stage players are truly engaging - to fictional audience member and TV viewer alike. 'Sansa' is a bit part, and actress Bianca being encumbered with such limitations is truly bitter. 'Tyrion' is played as a straight-up villain, but the dwarf stage actor behind him, whilst equally confident in his prospects with women, is far less charming than the real deal. He seems to get on well enough with Lady Crane - who portrays 'Cersei' exquisitely. Whilst Crane is clearly the best of the bunch, Bianca is determined to seize the 'opportunities' she has been 'denied' - even if that means resorting to help from the Faceless Men. Richard E Grant does well as apparent 'head of the company' Izembaro; a man clearly needy of a good crowd, and colleagues who do not complain of "small parts".
Arya is still being advised by Jaqen to kill another mark, with the mysterious mentor clearly stating there is no 'chance' of evading this assignment just because Crane is a 'good' person. But the younger Stark lady sees someone who makes Cersei a lot more sympathetic than the real article (who of course is still firmly on her 'kill list), and is clearly hesitant. Eventually she defies her orders as an 'assassin in the making' and does not allow the alcohol she herself laced with poison to be drunk, going on to make it clear that Bianca had her own deadly designs in getting a 'better' role. The Waif is clearly delighted that Arya still has not committed to the different 'morals' of the House of Black and White, and finally she can cause more than just a little pain to her nemesis. However, 'Needle' had been safely in hiding, and now is set to be used as a weapon once again.
*
Travelling briefly to Molestown from Castle Black, Sansa is contemplating how to turn the kidnap of Rickon and the Bolton control of Winterfell into a reversal of fortunes. It certainly will not be easy. A plan is currently in progress with Jon, Davos and others trying to rally forces together against Ramsey.
Having had Littlefinger re-introduced in a manner showing his supreme self-confidence, it is gratifying to see Aidan Gillen remind us of how human and weak this man can be. Memories are stirred of the excellent 'Power is Power' scene from back in Season Two. It is also a great moment for Brienne, who was dismissed in such an off-hand fashion as having a 'record of failure', when she first tried to serve Sansa. Since that embarrassing low point, Sansa has been through hell courtesy of her despicably sadistic husband. Still Baelish is no fool, and came to Molestown with both news of the Blackfish's mustering of forces at Riverrun. Thus Sansa's Uncle could help both her and Jon. Furthermore - as seen already in Episode Four - Baelish has secured the aid of the Knights of the Vale, and they are encamped back at Moat Caitlin. Whether Sansa trusts her long-term advisor and 'protector' to let her use these warriors to her advantage is kept somewhat unclear.
*
Some military advantage can sometimes mean nothing at all. And the High Sparrow has managed to render a (seemingly serviceable) scheme by the Tyrells and Lannisters - to retake the City - as nothing but ineffectual. With the King taken into the fold, and the people of the capital convinced that the Crown and the Faith combined is the way forward, two noble houses are made to look clueless. Of course for viewers there had been enough build-up of Margery's seeming assimilation (but most likely this is just her being calculating), and Tommen had for some time now given Pryce's overseer zealot a lot of chances to pour propaganda into his regal ear. The exclamation mark for the Tyrells' lack of control sees Olenna spell out to her slow-witted son Mace just how conclusively the High Sparrow has 'beaten' them.
The story does nice work in segueing from Jaime's humiliation as a dismissed member of Tommen's Kingsguard, to still being deeply in love with Cersei (and vice-versa), to some build-up with the situation over in Riverrun; where the Kingslayer is certain to feature in coming episodes. It is welcome to see Walder Frey and his sons again after a long break. Also, it still feels relatively easy to re-engage with the characterisations and portrayals of these shameless and cowardly opportunists. David Bradley is once again note-perfect, and his take on Walder is distinctly different from his contributions to both fictional and semi-biographical Doctor Who.
---
More than halfway through now the show continues to do well with its many components. This season has had a lot of material to cope with; such is both the source substance of the novels, and its own myriad threads. These two centre episodes have done fine work on exploring themes of respectively loss, fighting to regain one's 'rightful' land(s), supernatural power, as well as a nicely meta take on some of the more memorable political moments of the universally well-regarded earlier years of the show.