Monday, 16 April 2018 - Reviewed by Callum McKelvie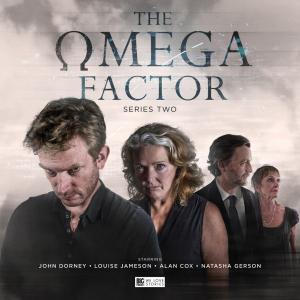 Written By: Phil Mulryne, Roy Gill, Louise Jameson, Matt FittonDirected By: Ken Bentley
Cast
Louise Jameson (Dr Anne Reynolds), John Dorney (Adam Dean), Natasha Gerson (Morag), Camilla Power (Dr Jane Wyatt), Alex Tregear (Kate), Alan Cox (James Doyle), Richenda Carey (Sarah Maitland), Gunnar Cauthery (Edward Milton), Hugh Fraser (Anthony Archer), Alan Francis (Alasdair Reiver), Ben Fox (Graham Stocker). Other roles performed by the cast.
Producer David RichardsonScript Editor Matt Fitton
Executive Producers Jason Haigh-Ellery and Nicholas Briggs
At the end of my review of the Omega Factor series 1, I made something of a bold statement. I remarked that out of Big Finish's entire output, the Omega Factor was my favourite release of all time. Now there's two things to bear in mind here. One is that I haven't managed to listen to EVERY Big Finish release, though I do feel I've listened to enough to make a judgement on the high quality of their products. The second is that I'm admittedly something of a horror aficionado and particularly of tales done in the 'Jamesian' mode, namely subtle menacing tales of the supernatural. However, those two factors, the sheer genius on display in OF series 1 was awe inspiring. Not only that but the level of care taken in 'rebooting' the series, shows appreciation for the original merged with a strong desire to push it into new and terrifying dimensions. Series 2 then had a lot to live up to and it can't have been an easy task following on from a series that achieved such critical acclaim. Matt Finton and his team of writers, however, have clearly thought incredibly hard about how to continue. Firstly, they involve an element from the original series that was conspicuously missing in series 1- the organisation Omega itself. However. rather than just have them pop up randomly for the finale, they seamlessly weave them throughout the four tales and even link them to unanswered questions in series 1. Their brief mentions in the prior series already established them as a powerful and dangerous threat, even to listeners unfamiliar with the original series. To help this several reoccurring characters are brought in, Edward Milton (Gunnur Cauthery) and Dr Banks (Richenda Carey). Both actors play their respective roles wonderfully and are given ample time to shine. In line with this new element the series also has more of a 'thriller feel', involving political elements and embracing the conspiratory nature of Omega.
Somnum Sempiternum by Phil Mulryne
The first story by Phil Mulryne demonstrates this, as Department 7 are called in by Doyle to investigate a series of political assassinations. Jameson and Dorney slip effortlessly back into their roles cementing far they've grown together as a double act. Alan Cox, as Doyle is given a lot more to do and we get to see him soften a little towards the department, a theme which grows throughout the series. Dr Jane Wyatt who was a villain in the previous series, The Old Gods, returns again played by Camilla Power, who plays the role with the same chilling lack of empathy that made her such a success in the previous set. Sadly she doesn't really have much to do in the episode bar standard villain actions, ala reporting to her mysterious overlords and having a VERY brief confrontation without heroes. It would have been great to see her have more of a standoff with Jameson and Dorney, but that aside it's an extremely strong opener.
The Changeling- Roy Gill
'The Changeling' is by far the stand out story of the set. This episode sees Adam go undercover in a maximum security prison to investigate a series of mysterious deaths surrounding a particularly disturbed inmate, Alistair Reever (Alan Francis). This episode is structured primarily as a mystery, with Dean attempting to work out exactly why Reever committed murder and what forces may be behind it. Due to that fact the less said about this story the better and I urge readers to avoid spoilers as much as possible. However it should be said that the final revelation is utterly devastating and beautifully tragic, Gill having teased the reality slowly but presented enough red herrings so that when the truth hits it hits hard. The Changeling finishes with an element of ambiguity but rather than leave it here this is followed up in later instalments. Whereas one might expect this to damage the stories individual merit, on the contrary it benefits it. These later revelations allow the very personal tragedy on display here to be part of something larger and more sinister, in particular the nature of those events only makes it all the more poignant. A beautiful, haunting masterpiece.
Let the Angel Tell Thee- Louise Jameson
Our third tale begins to escalate the events surrounding Omegas plans, despite our heroes still being somewhat oblivious to the danger around them. Most notably this is written by Louise Jameson who once again proves to be one of Big Finish's strongest assets. Listening to her in interviews one is given the distinct impression that she has a real soft spot for The Omega Factor and her character of Dr Ann Reynolds. In particular, she applauds the decision to set the series thirty years later (which I also commended in my review of the first series) and it's a decision she utilises to the full her, exploring Ann as an older woman. Jameson's strong sense of character is so rich that even brief passing moments of dialogue allow a glimpse into aspects of Ann's life that we haven't seen before. The story itself may seem like an old cliché, with Omega attempting to dispose of Ann by getting to her through her love life but like the best of this series, that's merely an excuse for in-depth character exploration. All of the other regulars are great as is the guest cast, (Hugh Fraser) but on the whole, this is a showcase for the supreme talents of Louise Jameson and what a wonderful showcase it is.
Awakening- Matt Finton
The final tale in the set brings together all the developing plot threads and also includes a surprise (though not entirely unexpected by this point in the series) Villain. Admittedly as a stand-alone story it does suffer somewhat from having an entire set riding on its back, but how it transforms the two sets into one complete story is what makes it great. For example whilst the reveal of what Omega and our extra-Villain are each up to respectively is certainly interesting but not exactly new or groundbreaking. What does make it stand out is the incredibly clever way in which they tie several episodes across the two series together, transforming simple standalone stories into important aspects of a grand master plan. Whilst the setting of the hospital does at points endanger a small scale feeling to what is essentially a grandiose season finale, the emotional links (primarily Adams previously unseen but much spoken of family being involved) work to make the stakes high. All in all the Awakening delivers what its promised and provides a tense and satisfying conclusion, whilst giving a tantalising hint of what's to come…
With the quality of series 1 so incredibly high, the OF team really had their work cut out in trying to equal it. This work must have been made all the harder by then having to resurrect the previously untouched Omega organisation. The result is not only every bit the equal of the original but a wonderful continuation of an excellent audio series. I made the bold statement in my last review that just after having heard series 1, the OF was my favourite Big Finish series, I stand by it here. A towering achievement that continues to impress.