Thursday, 3 May 2018 - Reviewed by Peter Nolan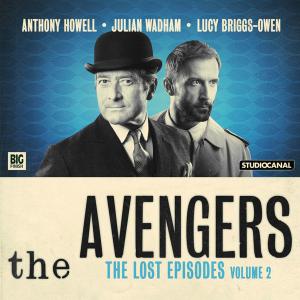 Written By: Peter Ling, Dennis Spooner and Fred Edge
Adapted by: John Dorney
Directed By: Ken Bentley
Cast
Anthony Howell (Dr Keel), Julian Wadham (John Steed), Lucy Briggs-Owen (Carol Wilson), Terry Molloy (Jacques Beronne/Cafe Owner/Barman), Martin Hutson (Felgate/Porter/Clerk), John Banks (Marko Ogrin/Peter Somers/Policeman), Jacqueline King (Mrs Marne),Rachel Atkins (Olive Berrone), Richard Franklin (Inspector Tudor), Richard Hope (Kollakis/Sleeping Car Attendant), Dan Starkey (Phillip Anthony/Trevor Price/One-Ten/Watchman/Tough)
Producer David Richardson
Executive Producers Jason Haigh-Ellery and Nicholas Briggs
As Big Finish's recreation of the missing, believed wiped, episodes of The Avengers' first season continues into its second volume it provides almost a mirror image of the progression seen in the first boxset. While the original batch of adventures are hardcore crime dramas into which a steadily increasing sense of the strange and avant-garde is injected, the four which follow are high concept spy fun which occasionally veers into more gritty corners as if one or two writers on the staff missed the memo.
Ashes of Roses
One of the interesting developments of this box set is its willingness to play with the Keel/Steed formula. In this episode Keel takes a backseat to his own secretary, as its supporting cast member Carol (Lucy Briggs-Owen) whose help Steed is eager to recruit. It does feel comically unlikely that Keel is so cynical that things will go as smoothly as Steed promises, and keenly aware of how many near-death experiences Steed has led him into but still ultimately adopts an attitude of 'oh, go on then,' when Carol basically pleads to be let have an adventure of her own. This time out Steed's been assigned to chase down a professional arsonist who left a dead victim in his wake at his last fire and his best lead is the exclusive hairdressers that potentially the next target. If using Carol as his 'woman on the inside' is a throw-forward to the plot of about half the Mrs. Peel stories, Ashes of Roses is distinct in that Carol's lack of guile and weak explanations mean she effectively has "I AM A SPY" on her forehead and a target on her back from the moment she arrives. As is usually the case in these early stories, it all climaxes strictly to the formula (one part Hercule Poirot drawing-room explanation, one part Harry Hill "FIIIIIIIIGHT!") but is livened up by a bit of business with an escape by train.
Please Don't Feed the Animals
As you might guess from the title, this is most definitely one of the stories on the forward edge of The Avengers' evolution, with a plot that could have been adapted to almost any era, right up to the days of Tara King, by adjusting the mix of silliness and drama accordingly. From the clanking typewriter of Dennis Spooner, always one of early Doctor Who's must fun and gifted writers, what grounds it firmly in Series One territory is the entry point of civil servants being caught with their pants down, quite literally, in honey traps with prostitutes and then being blackmailed into handing over first cash, and then state secrets. What suggests the series to come is the use of a private zoo run by a typically Avengerish eccentric as the handing over point, and the hapless victims being disposed of via crocodile once they've reached the end of their usefulness. As with most of these stories were essentially introduced to the villains at the start, but there's an additional level of 'whodunnit' at work here – though with so few suspects, you'd be hard-pressed not to guess the solution. But the real joy is the banter between Steed and the zoo owner as the two big personalities try to out-eccentric-Englishman each other. Splendid fun.
The Radioactive Man
Doctor Who fans are well aware of the necessity of the punishing 1960s filming schedule meaning a need for regular time off for the series regulars, but simultaneously a never-ending treadmill that leaves no gap in the schedule for it. In this case, even in my mind's eye listening to the audio, it's hard not to imagine Steed's handful of very brief appearances featuring a sudden jump from videotape to pre-recorded film inserts – while Patrick Macnee no doubt surrounded himself with a bevy of adoring ladies while on holiday on the south coast of France. Instead, Keel moves further centre stage than he has since Hot Snow and gains his own sidekick in the form of no nonsense Inspector Tudor (played by the wonderfully distinctive voice of Richard Franklin, formerly Captain Mike Yates of UNIT). If the emphasis on Keel is a throwback to the start of the season, so it the plot. Okay, so it features a 'radioactive man' of sorts, but the case of an illegal immigrant, accidentally exposed to radiation at a hospital, and who goes on the run when spooked by the authorities' desperate race against time to save his life, would barely be outside the mandate of Z-Cars. It is however, very well done, and radioactive man Marko's fear and anxiety, matched by Keel's increasingly stress and determination to find him, makes for some genuine tension. Marko's burgeoning romance with his landlady Mary too presents us with some of the most real, unironic, emotion found anywhere in the show's canon.
Dance with Death
A story that bounces us almost all the way back to the start of the season, this is firmly an adventure for Keel, in which Steed plays a firmly supporting role. The long lost Dr. Tredding even gets a mention! It also reflects the sort of low seediness of the earliest episodes, with women getting electrocuted in the bath with heaters, and much of the episode touring the suspects with motives as mundane as wanting to seize control of her half of a dance school. Steed only shows up at all in the latter third of the tale, and then seems to treat the whole thing as a jolly holiday from his more important and stressful work. By the point he's caught in a hotel, boring a hole in the door to an adjoining bathroom ("there's a girl in the bath, you see") he's clearly having the time of his life. Dragged into things by a Keel frustrated by the lack of action by the regular police, our bowler hatted agent quite rightly points out that Keel's supposed to be at his beck and call, not the other way round. And in a neat, but distinctly unAvengerish, touch of realism he notes the restriction that he can't act with the usual blank cheque of authority to do whatever he deems necessary to crack the case. It's both slightly unfortunate, though, and a testament to how well Julian Wadham has settled in to the role, that this is the first time for ages that as a listener you find yourselves wishing we still had Patrick Macnee's interpretations of these scenes.
All in all, Volume 2 illustrates just how far we've come in a short space of time. Underlined by how even as the plots ping and pong back and forward between two genres, Steed is now distinctly Steed in both.